Basic information
The purpose of the European Space Agency (ESA) is to provide and promote, for exclusively peaceful purposes, cooperation among European States in the space research and technologies development, with a view to their being used for scientific purposes and for operational space applications systems. Established in 1975, ESA is based in Paris, France. ESA comprises 22 Member States. The governing body of ESA is the ESA Council. Every 2 or 3 years the Ministerial ESA Council takes places where all important decision about ESA and its budget for the following years are decided. Annual budget of ESA is about 6.8 billion EUR.
Engagement of the Czech Republic
The main managing authority of the Czech Republic in charge of cooperation with ESA is the Ministry of Transport (MT), which is also the funding authority of the industry oriented programmes of ESA. The Ministry of Education, Youth and Sports (MEYS) funds and is in charge of R&D programmes of ESA. In general, cooperation of the Czech Republic with ESA is coordinated by MT. The contribution of MEYS to ESA R&D programmes is around 13 mil. EUR per year, while the contribution of MT to the industry oriented programmes of ESA is about 46 mil. EUR per year. As its advisory body on PRODEX projects, the MEYS has established the Czech PRODEX Committee.
ESA R&D programmes
Mandatory Activities (Basic Activities, Science Programme)
European Spaceport in Kourou
Human Spaceflight and Exploration Programme (E2P)
Earth Observation Envelope Programme (EOEP)
Scientific Instruments Development Programme (PRODEX)
Space Situational Awareness Programme (SSA)
ESA industry oriented programmes
Telecommunications Programmes
Launchers
Meteorological Programmes MetOp-SG and MTG
Navigation Programmes
General Support Technology Programme
Copernicus Space Component Programme
Future EO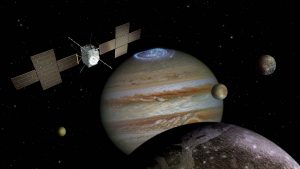 ESA – JUICE Artist's Impression
Experimental facilities
ESA operates several laboratories and experimental facilities on electronics, mechanics, software and material testing. Access to these experimental facilities and laboratories is available for participants of ESA projects, as well as for external customers. ESA supports also technology transfer and establishes – in cooperation with Member States – business incubation centres ESA BIC. Since 2016 ESA BIC centre operates also in Prague.
Activities of ESA are implemented in the form of contracts with research organisations or companies. Only entities based in ESA Member States and cooperating countries are allowed to enter ESA tenders and contracts.
Recruitment and training
ESA provides a number of career opportunities, mainly in engineering. Programme "Young Graduate Trainee" is focused on the graduates and offers a number of 1-year traineeships. Post-docs research fellowship programme offers 2-year training in science or engineering.
ESA is currently preparing several scientific space missions within its Science Programme – small missions ("S"), medium-class missions ("M"), large missions ("L") and so-called "Missions of Opportunity", a tool through which the ESA's Science Programme can implement a relatively small, non-enabling participation in a partner-led mission. The budget for medium-class "M" missions is 500 million EUR, large "L" missions 1 billion EUR and 50 million EUR for S-class missions (excluding costs of scientific payload).