ESFRI Chair Jan Hrušák addressed advanced materials at the Portuguese Presidency conference
The "Advanced Materials Conference – To innovate in the future, the journey starts here," was held on 16 June 2021 via Zoom. It was organized by the Advanced Materials Cluster, Técnico, and FCT-NOVA under the Portuguese Presidency of the Council of the European Union. The conference addressed current trends in the 4th technological and industrial revolution and the innovative potential of advanced materials to respond to societal "grand challenges" such as mobility, healthcare, energy, and climate change.
To innovate in the future, the journey starts here 
The conference was opened by Manuel Heitor, Portuguese Minister of Science, Technology and Universities, who emphasized that advanced materials are essential for the future comfort and prosperity of society. The minister was followed by Mariya Gabriel, Commissioner for Innovation, Research, Culture, Education and Youth, and Jean-Pierre Bourguignon, President of the European Research Council.
The ESFRI Chair Jan Hrušák from the J. Heyrovsky Institute of Physical Chemistry of the Academy of Sciences of the Czech Republic addressed the role of Research Infrastructures in technological innovations. "Research Infrastructures play a key role in the advancement of knowledge and technologies and connect the research and industrial communities," said Jan Hrušák. "Research Infrastructures are not stand-alone installations, but they are part of a broader system contributing to the longer-term development of research and innovation. This system is not only capable of integrating Research Infrastructures in and across scientific domains but creates knowledge and innovation hubs around Research Infrastructures attracting high-level expertise and creativity and providing space for sharing knowledge and ideas," added Jan Hrušák.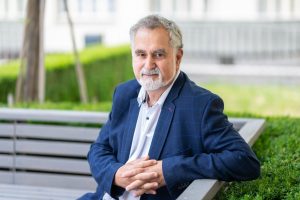 Jan Hrušák
 Added-value products 
In connection with the ongoing coronavirus pandemic, the conference in many respects emphasized the societal use of important technologies, especially in the field of information and communication. These materials represent major advances over conventional materials, in particular superior properties and performance. In particular, they allow supply chain efficiency, distributed and decentralized manufacturing, reduced needs for storage, customization, and personalization of goods. As a result, they offer solutions in many industries with a direct impact on society.
In this regard, the conference organizers expect policymakers and industry stakeholders to support the development of new technologies and value-added products capable of delivering a new generation of powerful, cost-effective, and environmentally sustainable products and technical solutions in energy, health, transport, and information and communication technologies. Research infrastructures have an irreplaceable role to play in this effort.
 Photo: Jana Plavec