CERN CZ Roadshow: Start your career in CERN!
In addition to its scientific programme, the European Organisation for Nuclear Research (CERN) offers a variety of career opportunities and traineeships. CERN career opportunities in technical disciplines range from mechanical and material engineering, electronics, programming, computing, to statistics and mathematics. CERN also offers administrative or legal positions.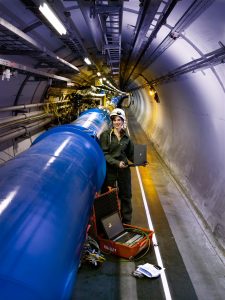 For young scientists and technicians, CERN offers a range of student programmes and traineeships – Technical student programme, Administrative student programme, Doctoral student programme, summer schools and many other opportunities.
From 25th February to 5th March 2019 a series of seminars on career opportunities at CERN will be held at Czech universities with Czech employees at CERN.
PRAGUE
Monday 25th February 2019

112:00 – 13:00 Czech Technical University in Prague, Faculty of Nuclear Sciences and Physical Engineering, Atrium, Břehová 7, contact: Jaroslav Bielčík jaroslav.bielcik@fjfi.cvut.c
18:00 – 20:00 Czech Technical University in Prague,  Faculty of Information Technology, Aula T9:107, contact: Veronika Dvořáková veronika.dvorakova@fit.cvut.cz

Tuesday 26th February 2019

10:00 – 13:00 Charles University, Faculty of Mathematics and Physics, Malostranské náměstí 2/25, Refektář S120, contact: Vojtěch Pleskot Vojtech.pleskot@cern.ch
BRNO
Wednesday 27th February 2019

15:00 – 18:00 ​University of Technology in Brno, Faculty of Business and Management, Kolejní 2906/4, 612 00 Brno – Královo pole, contact: Hana Philippi philippi@ro.vutbr.cz
19:00 – 21:00 Masaryk University, Faculty of Science, Kotlářská 2, Pavilon 12, Aula – 1030, contact: Veronika Čechová cechova@kariera.muni.cz
ZLÍN
Thursday 28th February 2019

10:00 – 12:00 Tomas Bata University, Faculty of Applied Informatics, building U5, Aula 51 107
15:15 – 17:15 Tomas Bata University, Building of Rectorat (U13), Aula 131
OSTRAVA
OLOMOUC
Tuesday 5th March 2019

9:00 – 16:00 University of Palacky in Olomouc, Faculty of Science, 17. Listopadu 1192/12, 771 46 Olomouc, contact: Jiří Kvita jiri.kvita@upol.cz
9:30 – 10:30 Presentation, 10:30 – 11:30 formal discussion, 12:00 informal discussion in Spagetarna
13:00 – 14:00 Presentation, 14:00 – 14:30 formal discussion, 15:00 informal discussion in Spagetarna
Aktuální program sledujte na webu CERN: http://careers.cern/CZoutreach.