Basic information
Joint Institute for Nuclear Research (JINR) is an international R&D organisation based in Dubna, Moscow region, Russian federation. Its research area covers the theoretical and experimental particle and nuclear physics, condensed matter physics and radiobiology. Established in 1956, JINR comprises 18 Member States and several other countries cooperating on the basis of bilateral agreements. Annual budget of JINR is about 210 mil. USD while the contribution of the Czech Republic, covered from the budgetary chapter of the Ministry of Education, Youth and Sports, is slightly below 6 mil. USD per year.
Experimental facilities
The fundamental experimental facilities of JINR are primarily the Nuclotron (accelerator of light and heavy ions), cyclotrons U-400 and U-400M that are used for synthesis of super heavy elements and light exotic nuclei and recently launched DC280 as a part of SuperHeavy Element Factory (SHE-factory), pulsed neutron reactor IBR-2 and accelerator of protons Phasotron. New experimental facility – Baikal neutrino telescope (Baikal-GVD) and collider NICA are under construction. An important role in JINR plays also the computing infrastructure MICC with supercomputer Gvovorun and the educational programme of the University Centre of JINR. All scientists participating in JINR research programmes are allowed to access the JINR research infrastructure. Students´ programmes are open for all applicants. The data from JINR experiments are available to scientists participating in the projects.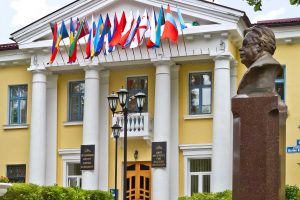 JINR – Headquarters in Dubna, Russia
Recruitment
It is expected that employees from a Member State are "posted" by the Member State where approval from the Member State is required. In rare occasions it is possible to be employed directly by JINR. JINR offers also a number of opportunities for students or JINR summer study programme.
Procurement
Each year JINR opens a number of tenders. In the Czech Republic the contact points for JINR tenders are the Technology Centre of the Academy of Sciences of the Czech Republic – namely Mr. Jiří Janošec, Ph.D., Deputy Head of Department for Business Development, and the Czech Vacuum Society – namely Mr. Pavel Hedvábný.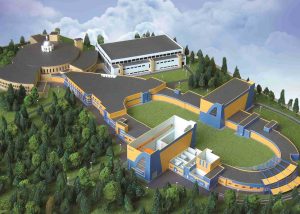 JINR – Visualisation of NICA Complex
Engagement of the Czech Republic
For Member States, including the Czech Republic, there are programme schemes to support common research projects developed in cooperation with JINR that are funded from their contribution fee to the JINR budget. They consist of the Grants of the Plenipotentiary and Projects 3+3. The managing authority of the Czech Republic in charge of relations with JINR is the Ministry of Education, Youth and Sports, which has established, as its main advisory body, the Committee for Cooperation of the Czech Republic with JINR, which is composed of representatives of research organisations involved in the cooperation with JINR, representatives of relevant ministries and other relevant stakeholders of the Czech Republic